Where does your journey begin?
Your journey begins with the decision to be the best. You want to be the best service provider and employer; you want to be the best employee & technician. At Service Angel, our goal is to bring employees and employers together to provide a great service to homeowners. We help business owners be present when the homeowners are looking for a service, and get the right employer that fits your values and business model. For the employees, we will help you find an employer that fits your lifestyle, where you can find a balance between work and life.
Need help with HVAC or plumbing services? Maybe some electrical work needs to be done around your house? With Service Angel, you have access to companies with the best technicians and who take active roles in their communities.
Working in trades is a fulfilling career with great financial and personal incentives. Service Angel will help you find an employer that fits your ideal work environment so that you can have a great career with amazing colleagues and with incentives that matter to you. Because at the end of the day, a job in trades means you are helping people –let us help you!
You love your business, employees and community. You know, ultimately, you are bringing life-changing opportunities and services to your community, your city, your state, and your country. Service Angel wants to help make your life easier by helping you find the right qualified technician that fits your company motto.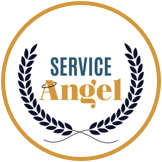 Service Angel exists to help business owners, technicians, and homeowners under one platform. We want Service Angel companies to reach customers within their community who are looking for help fixing their homes and reach employees who fit their company model and do the best work for their customers. We want technicians to finally find an organization they can call home, work at their very best without sacrificing their family and personal time. We want homeowners to find great service in their community by connecting them with the best home service companies close to them. With Service Angel, we only have one mission, and that is helping people - we bring the "best of all worlds" together.
How Service Angel Companies are Different
Peace of Mind
With all the necessary information in one place, we make your decision an easy one. We do the work for you so you can skip all the research and just click, "hire now," "apply now," or "contact now" and be confident in your decision.
Investment in the Future
Find a fulfilling career with some of the best companies in your city. A company that shares your values so that you know you will be happy and proud to work with them for the long term.
Advance Careers and Companies
Take the next step to excelling in your career. Find a company where you will have growth opportunities within and outside the company.
Giving Back
Share your services and skills with your community. Bring change with charitable giving and community involvement.
Focus on Services
Serving one's country and community is the highest value. We help customers find companies and technicians who are focused on just that.
Continuing Education
Your growth means the growth of your family, community, and employer. Service Angel companies value growth and education, so the entire company can grow together.
Diversity and Inclusion
At Service Angel, diversity and inclusion are important. We employ a diverse workforce to run our platform. Working with individuals and companies that believe in diversity and inclusion is important to us. We strive, and pride ourselves, in working with organizations and technicians who value the same ideology. We help business owners reach homeowners and technicians of all races, ethnicities, and religious beliefs, and homeowners and technicians reach companies that believe in diversity and inclusivity.
What Is Service Angel?
Service Angel is created as the guardian, the little voice by your side, to aid business owners, technicians, and homeowners towards the right path. Sounds cliché? Let us explain it further.
learn more
Oftentimes, the issue is finding the right fit with both the employer and employee. The idea behind our service is to have one platform where we can help the companies find the right talent, and for the technicians to find the right employer. But we don't just stop at that, we take it a step further to include the homeowners into the mix, to help make sure they find the right company and technician for their needs.
learn more